ERASMUS +

Inter-institutional agreements
To participate in mobility in your educational field, please review the list of bilateral agreements Erasmus+
How to Apply 
If you wish to study at MU-Sofia as an Erasmus student for a semester or a whole academic year, please read carefully the following step-by-step information:
1. Contact the International Office of your home university to find out whether your university has a Bilateral Agreement with MU-Sofia for the respective academic year. (You can also refer to our List of Partner universities).
2. If there is such an agreement you have to be officially nominated by your university as an Erasmus student.
3. We have to receive the following filled in documents: 
Student Application Form
Learning Agreement – for further information about your study programme , please contact the responsible Faculty Coordinator of our university, and please look at the ECTS Course catalogue for international students
Training agreement (If you are applying for clinical placement)
Transcript of records
Accommodation Form – if you wish to use the university accommodation facilities
4. Dead-lines for the application:
June 15 – for the winter semester or a whole academic year
December 1st – for the summer semester
5. After we have received the documents, your application and study programme are considered and approved by our university, we will send the acceptance documents to the International Office of your university.  
Before Arrival
After you have been accepted as an Erasmus student, and you are preparing your arrival, please keep in touch with us for any additional information you or we will need. 
Please inform us about the exact date and time of your arrival and we or a student of our university will meet you.
 If you wish to study Bulgarian language we will arrange a course for you at the Department of Foreign Language Training at our university. 
After Arrival
After your arrival to Sofia come to our International Office and we will arrange all the issues of your stay at MU-Sofia. 
During your stay
Whenever you need help or have any question, please contact us by e-mail, or come to our office and we will do our best to help solve the problem. 
USEFUL INFORMATION FOR INCOMING ERASMUS+ STUDENTS
Dear Incoming Student,
The Erasmus Office which is a sector of the International Integration and Project Finance Department at the Medical University – Sofia welcomes and congratulates you for your fine choice to select our University for student mobility. As you come to Sofia for the first time we would like to help you with some advice in
order to make your living and training easier.
You may contact Erasmus+ Office every working day from 9,30 – 12,00 a.m. and 1,30 – 3,30 p.m.:
S. Manolov – Institutional Erasmus Coordinator & Outgoing Students, tel.: +359 2 91 52 138;
e-mail: smanolov@mu-sofia.bg ,15 Ivan Geshov Blvd, Sofia 1431, fl.12, room 17
M. Mladenov, Erasmus Coordinator – KA 107 (КА 171), tel.: +359 2 9152 154;
e-mail: mmladenov@mu-sofia.bg, 15 Ivan Geshov Blvd, Sofia 1431, fl, 12, room 18
M. Kasnakova – Expert / Incoming students, tel.: +359 2 91 52 138;
e-mail: m.kasnakova@mu-sofia.bg, 15 Ivan Geshov Blvd, Sofia 1431, fl. 12, room 17
Coming from abroad by plane you will be guided by a student from the 'Students Council' to the dormitory. He/She will help you with the accommodation. The telephone for accommodation in cases when you are not accompanied is 02/ 862 90 15, mob. 0889 254 072 – Ms. Tanya Bogdanova; Mr. Nikola Filchev – 02/ 862 30 82;
If you want to take a taxi, be sure to order it at the taxi-desk, not just outside the airport. The licensed taxi operator starting from the taxi piazza of Sofia Airport is "OK SuperTrans" (973 2121). The correct address is Studentski grad /near Hristo Botev Hall/ stop of the public transport/ block 40. (give the address to the driver!) СТУДЕНТСКИ ГРАД – БЛ. 40, ДО АВТОБУСНА СПИРКА ЗАЛА "ХР. БОТЕВ". You can visit a detailed map on site: https://mu-sofia.bg/en/contacts/
On the next day after arrival you must register at the correspondent faculty:
Faculty of Medicine – Dean's Office – International students Dept., Ms. Donka Ivanova; International
Students' Education Office – 2 Zdrave Str., Hospital Maichin dom – fl.1, rooms: 157, 155, 159;
Faculty of Dental Medicine – 1 St. Georgi Sofiiski, fl. 8, room 806;
Faculty of Pharmacy – Dean's Office – 2 Dunav Str. fl. 1, room 125;
Faculty of Public Health – Dean's Office – 8 Bialo more Str. (Hospital ISUL), fl.4
(The office for incoming Erasmus+ students is at the Military Medical Academy – 3 Georgi Sofiiski, fl 1 )
You can seek for assistance the correspondent faculty Erasmus+ coordinators as well. You must contact your Erasmus faculty coordinators before and on your arrival obligatory. You may contact them during your stay at any time and on different occasions.
The student is obliged to ensure his individual exam – protocol for every exam. The document is issued by the same offices as well as departments and after the exam a copy of the protocol with the grade achieved must be submitted to the Erasmus+ Office – the address is written above.
The students from the Faculty of Medicine can choose courses from different years of study if they do not overlap in the time – schedule. http://medfac.mu-sofia.com/index.php?page_id=238
T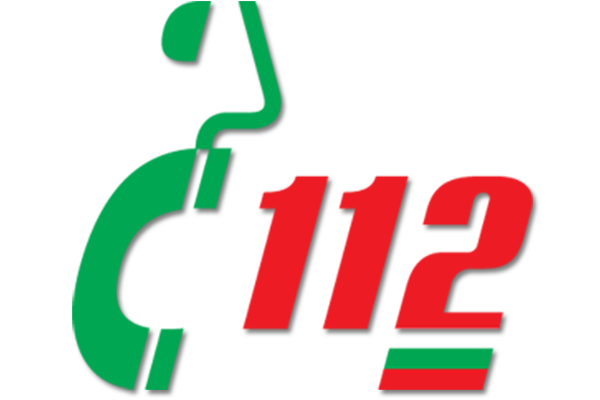 Insurance
Health Insurance must cover all the medical costs for the entire period of stay and it is better to have such document issued by the home country. The case is the same with the accident and third party liability insurance during educational activities in the university buildings, transfers to and from the university and during excursions approved or organized by the university.
United telephone number for emergency situations: 112
Traffic accidents: 165
Anti-fire Department: 160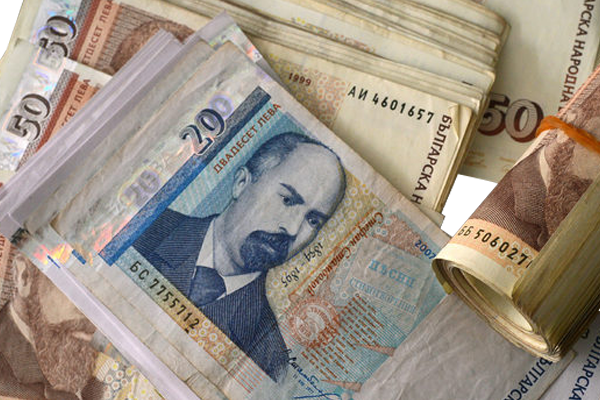 Currency exchange and banks
The Bulgarian currency is called Lev (pl. Leva) which equals 100 stotinki. One Euro is equal to about 1, 95 Leva. Use the ATM machines at Terminal 1 or Terminal 2 to exchange money. If you need to exchange money at the airport change bureau we advise you to exchange a small amount that would cover only basic expenditures as the exchange rate there is substantially higher than in the city.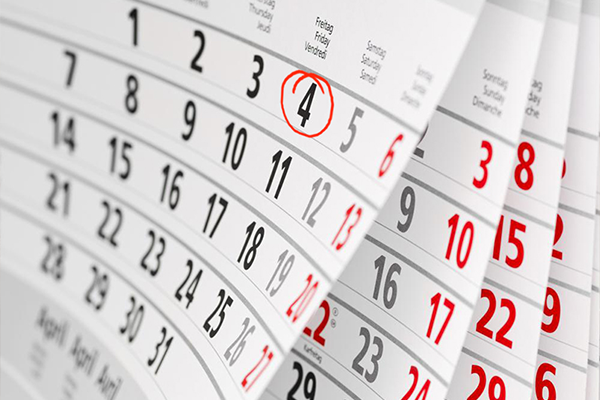 Public Holidays
1st January – New Year's Eve; 3rd March – Liberation Day; 1st May – Labor Day; 6th May – St. George's Day; 24th May – Day of the Slavonic Alphabet and Bulgarian Culture; 6
th September – Unification Day; 22nd September – Independence Day; 24-25th December – Christmas Eve and Christmas.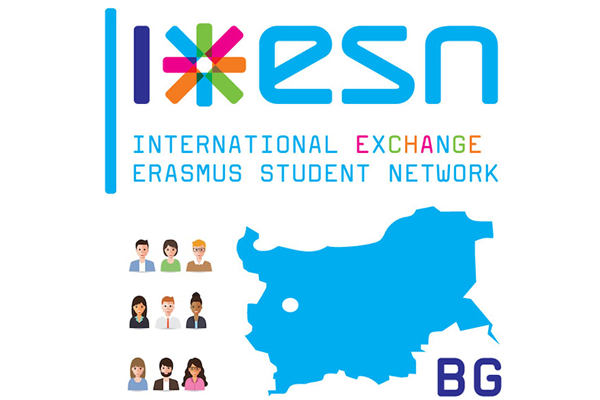 Student's life
Erasmus Student Network Bulgaria (ESN Bulgaria) is a non-profit international students' organization. Their mission is to represent international students, thus providing opportunities for cultural understanding and self- development under the principle of students helping students. For details visit site: http://esnbg.org
The Association of medical students in Bulgaria /AMSB/ – www.amsb-sofia.org is organization of the medical students from the whole country. You can contact Hristo Iliev – hilievbg@gmail.com tel.: 0894702943 or Monika Gancheva – monika_galinova_g@abv.bg, tel.: 0894622171 for assistance. AMSB is a full member of the International Federation of Medical Students' Association. Every year there is a Congress of medical sciences (www. icmsbg.org) which is the leading and most important academic event for students and young doctors.
The Students' Council of Medical University organizes students travel and participation in international, meetings, congresses, training and science sessions. You can contact them at: ss.musofia@abv.bg or: Iman Kadiova (Faculty of Medicine) – imi_k@abv.bg , tel.: 0899 849 454, Diyan Ganev (Faculty of Medicine) – diyan.p.ganev@gmail.com , tel.: 0885 776 888, Simeon Simeonov (Faculty of Dental Medicine) – dmdsimeonov@gmail.com 0888 030 535, Yanitsa Rusenova (Faculty of Pharmacy) – qrusenova@gmail.com ,tel.:0888 030 535, Zornitsa Vulcheva (Faculty of Public Health)– zvulcheva@abv.bg , tel.: 0887 253 759;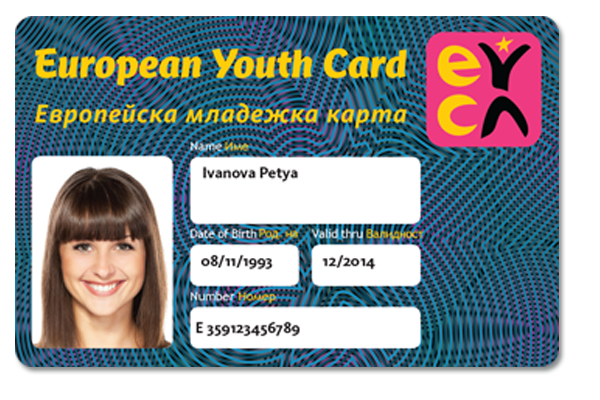 European Youth Card
This is a card for young people from 16 till 29 years old who can achieve low cost preferable services for travel – by bus and by plane, accommodation at hotels, hostels and insurance services, museums, cultural and historical sites, galleries, cinemas, theaters. All EYC are valid for 1 (one) year after issuing. The documents needed for EYC are: ID, or International Passport and one photo. The price is 15 Leva. These cards can be issued by Usit Colors: Studentski grad Municipality, "8 December Str. № 25 (opposite
the Polyclinic); "Vassil Levski" Blvd. № 35 – Sofia (center);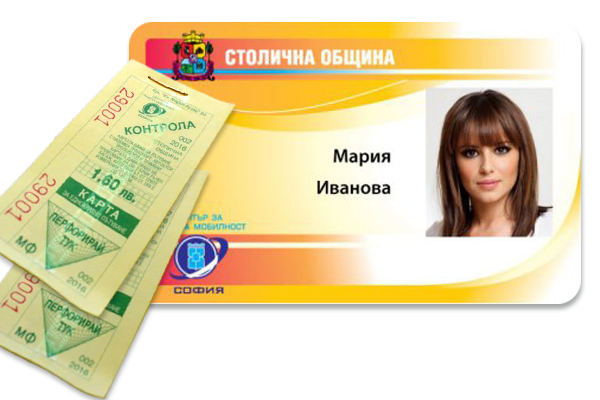 Transport facilities
The public transport in Sofia is relatively good organized. One ticket costs 1,60 Leva. You can use student reduced cards that are at a reasonable price – 21,50 Leva/month for all lines and types of transport or 9 Leva for one line. If you don't have a passport size photo which is needed, you may go to the photo-shop on 12 "Shipka"Str. which is nearby the Sofia University – "St. Kliment Ohridski". The Transport Office for issuing such cards is in the subway in front of the Sofia University. The Erasmus+ Office will give you a letter to certify that you are an Erasmus student at MU-Sofia. The letter should be delivered at the Transport Office along with your ID card/Passport and one photo.
As the University is situated in the central part of the city the students can travel by buses to the campus:
number 94, 102, 280 and mini-buses number: 7, 8 , 27, 5. Taxies are an option also after midnight: Yellow 333 taxi, "OK taxi, Sofia taxi". Be aware of the information written on the front glass and side doors of the car! The price should not exceed 1 BGN/km.
USEFUL INFORMATION FOR THE TEACHERS: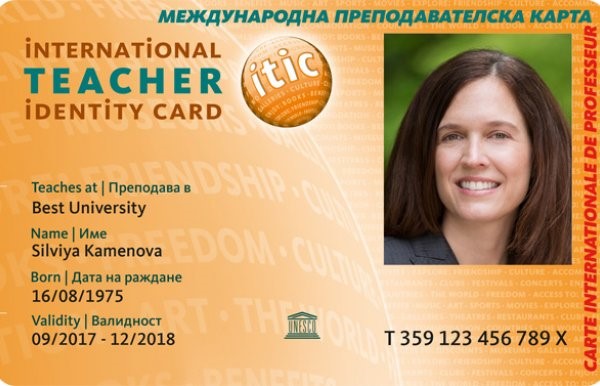 The International Teacher Identity Card is the only worldwide recognized document certifying the status of a teacher.
The ITIC card is the key to affordable online shopping, travel abroad with guaranteed discounts on transportation, lodging, museum visits, conferences and attractions. Holders of an ITIC card can benefit from thousands of specially negotiated preferences in Bulgaria in a wide variety of fields: shopping, concerts and theaters, sports, health and beauty, services, computers and communications, and more. ITIC cards are issued and distributed under the auspices of UNESCO.
WHAT TO USE ITIC CARD FOR?
Internationally recognized teaching status certificate worldwide;
Access to online shopping preferences – use it via the free MyISIC mobile application;
Preferences in Bulgaria – over 1000 preferences in Bulgaria in various fields: entertainment, shopping, eating and drinking, sports, beauty and health, computers and communications, etc .;
Preferences abroad – discounts in around 40,000 sites around the world: museums, cultural and historical sites, galleries, cinemas, theaters, restaurants, restaurants and more.
WHO CAN BENEFIT FROM ITIC AND HOW MUCH DOES IT COST?
ITIC is suitable for:
Teachers of full-time at a higher, secondary or primary school, or
Lecturers on employment contract.
Card validity and price:
ITIC cards are valid for one academic year;
Price – 24lv. one-time issue fee. + 4lv Delivery (free shipping in April 2020).
ORDER IN APRIL AND GET A FREE DELIVERY
You can order your Standard International Teacher Identity Card online and receive it in April with free delivery to your specified address within 3 business days. 
Medical University – Sofia Erasmus+  Office
15, Acad. Ivan Geshov, Sofia 1431
flооr. 12, room. 17
S.Manolov – smanolov@mu-sofia.bg,
Institutional Erasmus Coordinator & Outgoing Students
tel. +359 2 9152138 ;
flооr. 12, room. 1
T. Todorova – ttodorova@mu-sofia.bg,
Erasmus Coordinator- KA107
tel.: +359 2 9152 165;
flооr. 12, room. 17
M.Kasnakova – m.kasnakova@mu-sofia.bg,
Expert / Incoming students КА103
tel.: +359 2 9152 138
Erasmus Faculty Coordinators:
Faculty of Medicine – Assoc. Prof. L. Traykov, PhD,
tel.: + 359 2 9541372
Mobile:+359-899-030865
e-mail: lltraikov@medfac.mu-sofia.bg 
2 Zdrave st., floor 4, office 416, Sofia 1431
Faculty of Dental Medicine – Assoc Prof. T. Uzunnov
tel.: +359 2 9541 393
e-mail: uzunov@fdm.mu-sofia.bg
1, St. Georgi Sofiiski, Sofia 1431
Faculty of Pharmacy – Prof. V. Petkova, Ph.D.,
tel.: +359 2 9236 593
e-mail: vpetkova@pharmfac.mu-sofia.bg
2 Dunav Str. Sofia 1000
Faculty of Public Health – Prof. A. Yanakieva
tel. +359 2 851 0122; +359 896 783 261
e-mail: erasmus@foz.mu-sofia.bg
MU-SOFIA RECTORATE LOCATION