Prof. Karolina Lubomirova, MD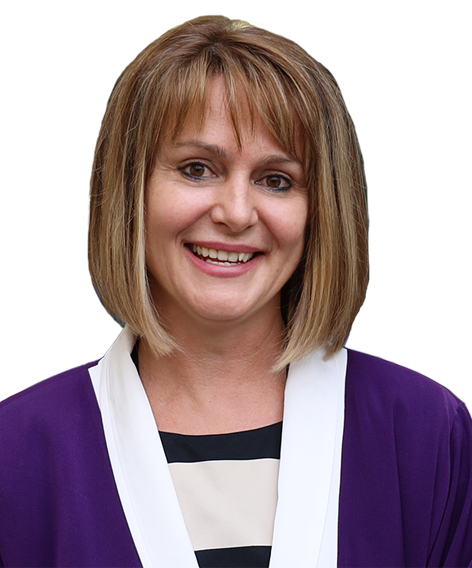 Prof. Karolina Lubomirova, MD
Vice Rector for Academic Affairs
Vice-Rector for Academic Affairs of MU-Sofia
Professor of Occupational Medicine
Head of the Department of Occupational Medicine, Faculty of Public Health, MU-Sofia
Training and qualifications :
1998- Diploma of Higher Education, Faculty of Medicine, HMI Sofia.
1999-2002- Dissertation work for acquisition of ONS "Doctor", (HAC 04.09.2002)
2002- Certificate of specialty in toxicology, MU- Sofia.
2005- Master's degree in Public Health and Health Management, PHC, MU-Sofia.
2007- Associate Professor of Toxicology (HAC, 03.05.2007), PHC, MU-Sofia
2009- Certificate of specialty in occupational medicine, MU- Sofia.
2013- Professor of Hygiene (incl. Labor)
2016- Certificate of specialization in health economics, MU-Sofia.
Specializations:
2000- National Institute of Public Health, Oslo, Norway
2000 – Nofer Institute of Occupational Health, Ludz, Poland
2006- "Policy of Industrial Safety and Health", Tokyo, Japan
Positions held:
  1999-2002 – full-time doctoral student, lab. Toxicology, National Center for Hygiene
2002-2006 – Research Associate at NCHMEH, Head of Accredited Testing Center for GOS Standard for testing of cosmetic products
2007 – Associate Professor, Faculty of Public Health, Medical University of Sofia
2012-2016 – Vice-Rector for Academic Affairs, MU-Sofia
2016- 2020- Deputy Dean for International Cooperation and Project, PHC, MU-Sofia
2019 – Head of the Department of Occupational Medicine, PHC, MU-Sofia
Scientific activity:
International project manager : BG05M9OP001-4.001-0019-C01 Epsilon – EUROPEAN PARTNERSHIPS FOR PREVENTION AND SOCIAL INNOVATION FOR DOCTORS THROUGH TRAINING AND SCIENCE
Coordinator of the project "Introduction of distance learning in public health" approved and funded by the European Social Fund and Operational Program "Human Resources Development" 2007-2013 at the Ministry of Education, Youth and Science under Scheme BG051PO001-4.3.04 "Development of electronic forms of distance learning in the system of higher education ".
Participation in the project "Building an integrated information system in MU-Sofia", approved and funded by the European Social Fund and Operational Program "Human Resources Development" 2007-2013 at the Ministry of Education, Youth and Science under Scheme: BG051PO001-3.1.08 "Improvement of management systems in higher education"
National project coordinator under the program PUBLIC HEALTH EU Public Health Outcome Research and Indicator Collection – EUPHORIC , "EUPHORIC" – 2003- OJ 2003 / C62 / 04.  
A participant in the international project on 5 th Framework Program of the EU , topping of life and Quality Management of Living Resources " –  " Effects of PAHs in environmental pollution on exogenous and endogenous DNA damage (EXPAH) ".
Member of the executive board of the international project Erasmus + Capacity Building Project: "SPRING".
Participant in an international project : HLS19 Project: The Health Literacy Population Survey 2019-2021 – a project of the Action Network on Measuring Population and Organizational Health Literacy (M-POHL) within the European Health Information Initiative (EHII) of WHO-Europe
Leader and participant in over 15 scientific projects of national importance, among which the project won the first prize for high scientific achievements "Signum laudis pro scientific merits" of MU-Sofia (2009).
Scientific papers / publications
Over 150, of which over 30 in international publications. Over 100 citations.
Over 120 participations in scientific forums. Participation in scientific committees at international forums.
Doctoral students: 6 – successfully defended.
Awards
2000- First place in the competition "Young Scientists" MU-L-1000-1 of the Ministry of Education and Science. Diploma from the Research Fund and awarded first prize for significant results in project development, MES 2000.
2001 – First prize for participation among young scientists in the 29th Congress of Medichem, Prague, Czech Republic.
2006 – American Society of Toxicology and Astra Zeneca Award for Conference Presentation, March 2006, San Diego, California, USA
2016- "Golden Panacea" of MU Sofia for special contributions in research and expertise.
Other activities :
Member of the Executive Board of the Association of Schools of Public Health in Europe (ASPHER)
Member of the board of the international organization of occupational medicine MEDICHEM (2008-2012).
National Consultant in Occupational Medicine – 2014-2019
Member of the National Specialized Expert Medical Board for Occupational Medicine at the Bulgarian Medical Association
Deputy Chairman of the Bulgarian Academic Society of Occupational Medicine (since 2014)
Secretary (2007-2016), Chairman (2016-2020) and Deputy Chairman (2020-) of the Bulgarian Scientific Society of Toxicology
Chairman of the Expert Board on Toxicology at the Ministry of Health
National Secretary for Bulgaria (2012-2018) and Member of the Scientific Committee for Occupational Medicine Training at the International Commission on Occupational Medicine (ICOH)
Member of the National Association for Health Policy and Management
Recognized as a European Registered Toxicologist (ERT) – 2013.
Member of the editorial boards of the international journals Public Health Review and Svet Rada.
Editor-in-Chief of the journal "Occupational Medicine and Working Capacity"
Chairman of the Editorial Board of the magazine "Health Policy and Management"
Foreign languages: English, Russian